Something that looks great on someone else might not look flattering at all on you and vice versa. That's because different dress cuts suit different body types better or worse. In order to find that great piece that would make your figure look amazing, you have to embrace your own body and shop to make your whole appearance look good.
[AdSense-A]
Recognize your body shape
There are several body types. In general, distinction is usually made between hourglass, apple, pear, round and rectangle body shape. Some women are lucky enough to have an hourglass figure. This means that the hip and bust are almost same in size, the waist is thin and the fat is equally stored throughout the body. Apple body type is characterized with bigger bust and waist compared to hips. Also, arms and legs are usually thinner. Pear shaped ladies have slimmer top compared to bottom part of the body. Hips and thighs are generally bigger and more noticeable than the bust, shoulders and waist. If your waist is about the same as your hips and bust, you have a rectangle body shape. There are less noticeable curves when you stand straight. Round shape involves a bit more weight accumulated in the waist as well as hip and thighs area. The bust is usually pretty large as well.
Dress for an hourglass body type
Since you have admirable curves you should definitely opt for bodycon dresses that can show off the natural lines of your body perfectly. While the length is not that important, remember to stay away from boxy or drapey cuts. V-neck is definitely the best choice for an hourglass figure, but you can choose many different necklines as long as you don't go overboard with showing your cleavage.
Dress for an apple body type
In order to find your perfect dress you have to seek the balance. Therefore, opt for cuts with wider A-cut skirts, but never go longer than your mid-calves. Together with empire style waist or generally a bodice that can accentuate your waist and simple, rounded necklines, this kind of dress would look gorgeous on you.
Dress for a pear body type
Even though pear shape is completely the opposite of apple body shape, the rules when searching for a perfect dress are pretty similar. Basically, skirts that flare out or have an A-cut are a great option, but unlike those for apple shape, those with pear shape can look for some fuller skirts and layered materials. This will cover the hips nicely. The top part of the dress should be fitted to accentuate the waist and narrow shoulders.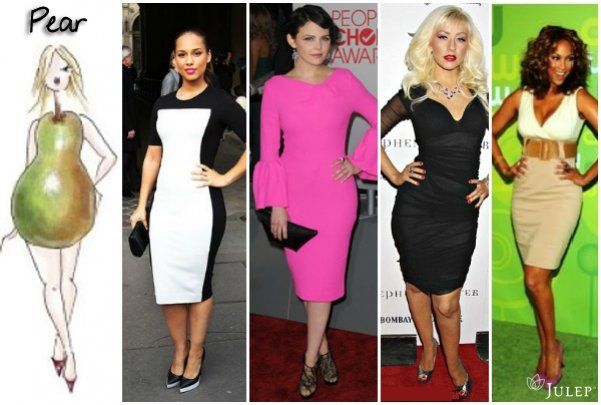 Dress for a rectangular body type
Rectangular body shapes are considered to be slim or athletic and they usually lack curves. To make the visual appearance of curves, go for fuller, embellished skirts. Also, you can make your bust appear larger with an empire waistline and even include embellishments in the bodice. Sleeves can be fuller and more textured as well. If you want some formal dresses in your wardrobe, the best example would be a true ball gown because it flatters the rectangular athletic body really well.
Dress for a round body type
Those with round body type should definitely pick dresses that flow from the upper waist and flare out in A-cut since these will elongate the figure and make it appear slimmer. In general, avoid dresses that are fitted in any area except the bust. Also, go with sweetheart or V-neck necklines to show off the skin on your upper body.
When you choose your dresses, pick ones that work for you and not the other way around. We are all different and clothes are made in various cuts and designs specifically to suit different shapes and sizes. Let your body do the talking when you try something on.