Have you ever walked into a store, saw a perfect dress on a mannequin, tried it on and realized that it looks completely different on you? Yes, we all have. That is mainly because we aren't all built as Barbie and we don't have the same body type. The media and magazines all portrait just that one 'perfect sized' girl that can pull off any type of clothing that she puts her mind on to. That is why we are here to show you that not all women are build the same and that yes, you can find a perfect dress according to your body type that will make you look like a fairytale princess.
[AdSense-A]
Apple
For women who identify themselves as an apple body type goes the saying 'top heavy'. This means that they have a wide torso, full bust, waist and upper back. Also broad shoulders are common for this body type. That is why apple types should go for something that will emphasize their legs, bum and draw attention to their neck and bust. The best thing for this body type is that you can go crazy with colors and patterns. You can't go wrong with rounded and strapless necklines, and also a v-neck for a full bust. Mini dresses are a great solution as they draw attention to your legs and your bum but at the same time draw attention away from the upper body.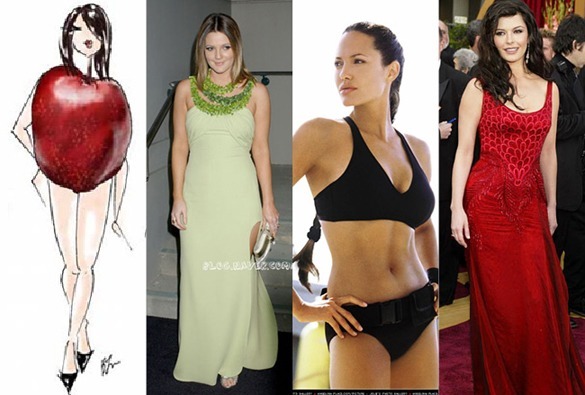 Pear
Pear shaped girls are quite the opposite of the apple type. That means that they are heavier on the bottom half and should work on emphasizing the upper half of the body. Hips and waist are the problematic area. The best choice for this body type is to layer it up a bit. A mix of patterns and fabrics that will draw attention to the torso are always a nice look. Also, if you are going to some special event a ball gown works wonders on pear shaped girls. A combination of light colors on top and darker colors on bottom will surely draw attention to your arms, back and bust. Strapless dresses are a wonderful choice if you have a full bust and are ready to show it off.
Plus Sized
If you are a plus sized girl you probably have issues with showing your skin. This doesn't have to be the case. The trick is to find something that will make you appear slimmer but don't go for dresses that cover your whole body. The best thing is to choose fabrics that won't cling to your body but will drape nicely. A wrap dress is a wonderful choice for plus sized girls. Also, sheath dresses or belted gowns are really flattering for this body type.
Hourglass
Perhaps the most flattering figure of them all; a full bust, a tight waist and a great bum. Wear something that will flatter your curves. If you wish to show off your bust be sure to wear a supportive bra and stock up with v-neck dresses. Bright and vibrant colors and patterns are a great way to emphasize your curves. The best thing with the hourglass figure is that you can pull off just any kind of look. Maxi or mini dresses, tight or not, causal or sporty – you can have it all. For a more formal look Forcast's cocktail dresses have a variety of different dresses for all kinds of events and occasions. Fitted dresses are like made for girls who are blessed with this figure.
Every girl can dress up and look divine if only she learns how to shop according to her size and figure. No matter how hard we try we can't change our body types and it is very important to accept it the way it is. When choosing a perfect dress, the most important thing is not the color or the pattern or even the accessory you will wear, it is that you feel that the dress is right for you and that it makes you feel comfortable when you wear it. Be sure that the dress you choose will flatter your mind as well as it will flatter your body.