Summer is here and you need to fill up your wardrobe. And what a better solution for completing your summer wardrobe than choosing an ideal dress. They are comfortable, light and easy to wear. You can wear them to the beach, for a stroll through the park or even for evening nights out. They are the perfect piece of clothing that every woman should own. We will help you choose the perfect dress according to your body type.
[AdSense-A]
Apple
The apple body type tends to carry a little more weight around the waist and the belly. This type should go for something that creates an illusion of a smaller waist and something that draws attention to their arms and legs. Mini dresses are made for apple shaped girls. You should definitely go for a dress that emphasizes the legs, downplaying the mid-sector shoulders. The smock dress is a great look for this body type.
Pear
For pear shaped body type a good look is something that will add shape to the upper body while downplaying the hips. Also, something that reveals the arms. Sleeveless prom like dresses are perfect for this type. It is also a good idea to add some details such as a belt around the waist or a detailed neckline. If you are thinking about color, perhaps it is smart to avoid plain white dresses and go for something printed and multicolored.
Hourglass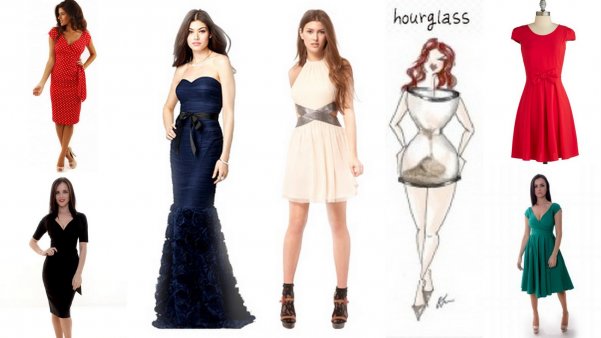 The most flattering body shape for women. This body type can pull off almost any kind of dress. This means that your bust and hips are roughly the same size with a narrowed waist. So the trick is to show off the curves while keeping them balanced. Spaghetti strap mini dresses are a perfect match for this type. Also, keep in mind not to overdo it with patterns and designs, your figure will do all the work. A-lines and bodices go perfectly with your body type. And strapless dresses of any kind match your body perfectly!
Curvy
The key when choosing a perfect dress for curvy women is to choose the right attribute to show off. Will it be the bust, hips or just the wholesome curvy figure. The key is to balance the upper and lower part of the body to create the illusion of an hourglass figure. Something that is banded around the waist should do the trick, and also don't forget to emphasize that neckline. A V-neck dress will do wonders for your look. Also, there are great maxi dresses that go great with your body type.
Petite
Maxi dresses are like made for petite girls. They are long and vertical and give out an impression of height. High waistlines are good idea to make an illusion of length. Something that is knee-length is also a good idea for petite types. It's very important to avoid belts or anything that will cut your body in half, because that emphasizes your height. If you are thinking about patterns, vertical stripes are the thing for you. The empire line dress is a good choice because it creates the effect of elongating the legs and making the body appear taller.
Tall
Tall women should go for something short that will draw more attention to their legs. It's a good thing that both minis and maxis look great on this body type, so you have a variety of dresses to choose. If you are feeling self conscious about your height, you can always add a belt to your waistline, so it will reduce the overall look of your height. Perhaps the best look for tall women is the silk slip dress that follows your bodyline. Sleeveless dresses also look fantastic on you. The shift dress is a perfect match, and the best thing is that you can wear it over jeans, leggings or just bare legs.
Whether you are an apple, pear, hourglass, tall or petite, you don't need to worry. Finding the perfect dress for your body figure has never been easier. Just listen to your body, don't be afraid to experiment and find something that fits not only your body type but your personality type too. The key is to find something stylish but also something comfy. So, what is your ideal dress for this summer?