Making beaded jewellery has become an extremely popular pastime recently, and for some people it has become more than a hobby. Plenty of people start to make their own beaded jewellery to save money on buying from shops, and create unique pieces for their family and friends. This is a nice way of creating individual gifts and unique keepsakes.
Some people then go a step further and decide to make some money from selling their own designs. If this sounds like something you'd be interested in you need to work out exactly what style you want to take before ensuring you've got all the necessary supplies to do the work.
Beads
Of course, this may sound like common sense but it should be the first place you start. Specialized retailers exist to ensure you can purchase beads in large quantities and there's a wide range to choose from. Whether you're hoping to make a specific type of jewellery such as shamballa, or a gemstone based product perhaps, you'll be able to find a huge range online and spend hours poring over the beads which suit your needs.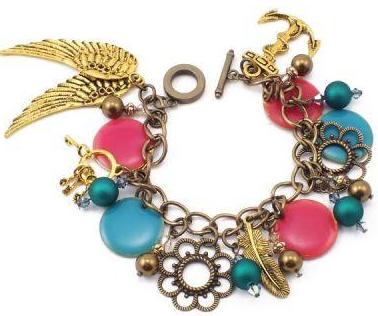 Most beads will be sized and measured in millimetres and the number shown on any product description will represent the bead's diameter in this metric. The number of beads you buy will depend upon what your aims are. If you're starting by making jewellery for yourself then just pick the beads you personally like, for example, whilst if making for a loved one then try and find out their tastes and preferences first.
Wire
Wire can be used both functionally and for decorative purposes when making beaded jewellery. There are a wide range of different types of wiring as there are beads, with different gauges, shapes, thicknesses, colours and metals. You need to ensure that the wire you buy fits the beads you purchase so check the measurements carefully. You also need to be sure that the wire is strong enough to support the beads you've chosen. You'll regularly find alloy wires which can be used for daily wear jewellery.
Findings
Findings is the technical term for all of the metal accessories used in producing jewellery, including clasps, ear rings, posts, eye pins and other accessories. Again, you will find a wide range of different findings which are essential for producing certain types of jewellery, such as earrings.
Tools
The most essential tool for making beaded jewellery is a good pair of pliers. There are three main styles – round-nose, needle-nose and flat-nose and you'll need to determine which you think is best for your jewellery. Smooth-edged pliers will be required to ensure they don't damage your wires. You will also need to invest in wire-cutters and a file to smooth the edges that have been cut to make the jewellery.
Other accessories you may require include stringing materials such as cord or thread if you want to use something that isn't wire for necklaces and bracelets. You may also decide to invest in a bead compartment box to keep all your beads separately organized. This is the beginning of your jewellery making kit and once you've decided this hobby is here to stay there are many other accessories and tools you may want to invest in.