As much as you might like travelling, keep in mind that going on a trip with small children can be extremely exhausting. Not only do you have to think about all the luggage and necessities, but you should also pay attention to your child's safety while you're on the road. From the car seat and proper restraints to keeping them entertained, there's a lot of work you'll have to do to keep your kids safe during the trip.
[AdSense-A]
Don't Distract the Driver
If you're travelling by car, it's imperative that you keep your kids entertained so that they don't distract the driver. Constant whining, crying, and fussing can be nerve wrecking and keep the driver from being fully concentrated on the road. A lack of attention can lead to a terrible accident, so try to keep the child entertained with toys, games, or audiobooks. Handheld puzzles, word searches, stickers, and coloring books will keep them busy for hours. The alphabet game is many children's favorite, so try this one when other games don't work. If they like listening to music, playing their favorite songs can also be of great help. Showing them interesting sights along the way can keep them from being restless, so you will be able to enjoy the ride.
Stock a First-Aid Kit
Checking up the first-aid kit before going on a trip is vital. Make sure to have bandages, medicine supplies, pain relievers, fever-fighting medicines, antihistamine, and cough or cold medicines. What's more, don't forget about disinfectants, insulin if someone in the family is diabetic, as well as bug repellents, sunscreen, plasters and other medical necessities you may think you need. With little kids, you should always expect the unexpected, so be sure not to lack any medication.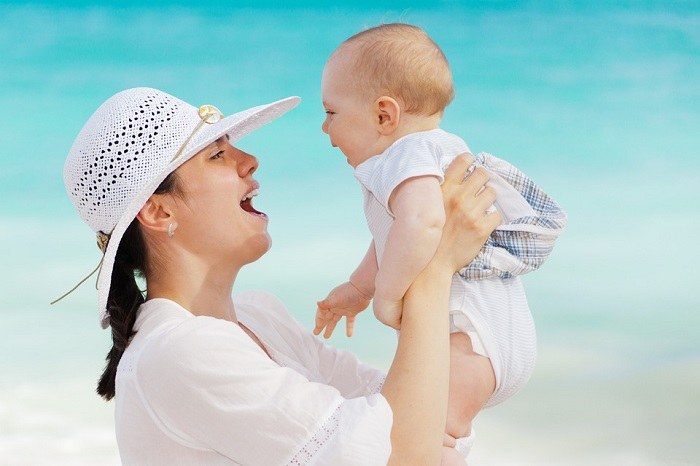 Use Car Safety Seats
Every passenger should be buckled up during the ride, while children require even more attention. Placing them into a car safety seat or a booster, depending on their age, is of great importance. Not only is it stated by the law, but it'll keep your child out of harm's way and reduce the risk of suffering from serious injuries in case of an accident by 70%. If you're driving with an infant or a toddler, you'll have to put them in a rear-facing seat, while older kids can sit in a forward-facing car seat. However, don't ever place a rear-facing car safety seat in the front seat because of an airbag. If your child has outgrown the car safety seat with a harness, buy a belt-positioning booster seat for them so they can buckle the seat belt.
Consult the Pediatrician
In case you're travelling abroad, it's best to consult with the pediatrician before you hit the road. Check if your children need any additional vaccines. Furthermore, if you're travelling internationally, be sure to get informed on the health conditions in the certain country. This way, you'll know whether you should travel there at all, and if you maybe need to take some health precautions. The doctor may also recommend you to adjust the child's sleep schedule 2-3 days before you go on vacation to reduce the jet lag.
Vehicle Check-up
Safety comes first, so a vehicle check-up should be a number one on your list before you go on a trip. See if the lights are working properly, if the tire pressure is good and if there are any oil leaks. The tank should be filled up with fuel, and everything should function perfectly. What's more, caravans can be a great alternative to cars since they're much more comfortable. Therefore, if you happen to run into affordable used caravans for sale, be sure to invest in one and start the journey of your life after you've checked it out entirely.
Staying safe on the road is imperative. What's more, keeping your children safe is crucial, even though it's not always the easiest job in the world. Nevertheless, if you keep them occupied, you'll have no trouble reaching your destination carefree. Furthermore, don't forget to bring all the necessary medicines, in case of an emergency; keep the children buckled up and seated in proper car safety seats; check if your vehicle is fully functional; and talk to the pediatrician to see if you've taken all the necessary pre-travel precautions.