Summer is almost around the corner, which means that there are a lot of hot trends that fashion lovers from all over the world can't wait to keep up with. Aussie fashion scene has always been very forward and innovative, which means that all the trends accepted by Australian fashionistas are definitely here to stay. Check out top five hottest ones everyone is talking about right now.
[AdSense-A]
Lingerie as Outerwear
From runway models to high street fashion lovers, everyone seems to be in love with this new trend of wearing underwear as outerwear – no matter how silly it sounds. Even though exposing the bra was considered very vulgar just a few years ago – there has been a huge change in perception which makes this groundbreaking trend so lovable. There is nothing wrong if your bra is peeking out – that can look very sexy and attractive. Wearing your favourite lace body suit to work, under perfectly tailored suit, is no longer impossible – you can wear anything you want and still have a perfect office look. Even some of the most famous celebs, such as Rihanna, Ellie Goulding, and Kendall Jenner are crazy about this trend, and it is not surprising that it became such a massive hit nowadays.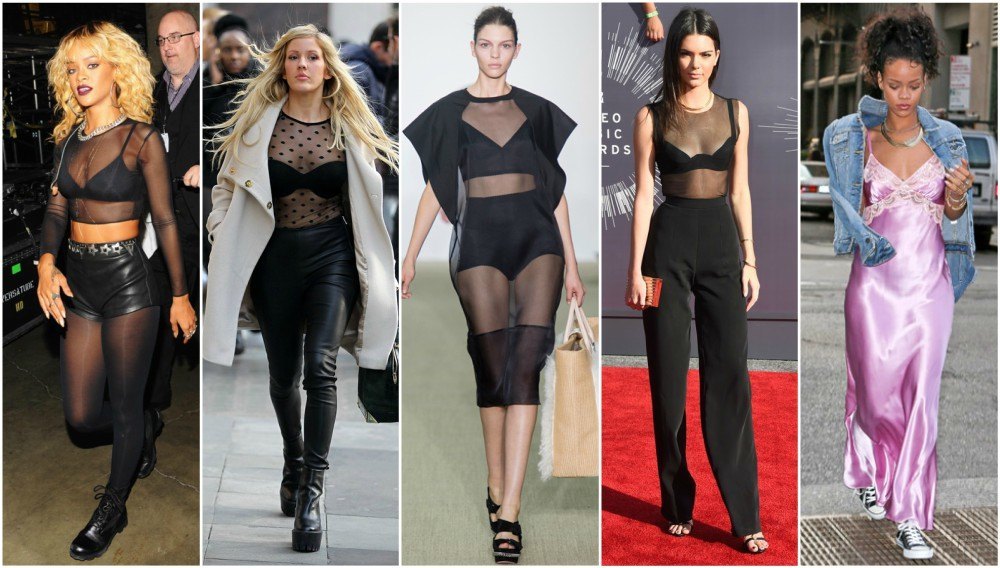 Mi Querida España
Some of the world's most prominent designers and fashion houses such as Oscar de la Renta, Diane von Furstenberg and Proenza Schouler completely fell in love with the remarkable culture of Spain this season. It has a major role in their latest collections, which can be seen in a plethora of wonderful detailing – flamenco ruffles, gorgeous embroidery, off-the-shoulder details, and of course, a lot of red shades in combination with inevitable black. One thing is for sure – this trend blows everyone's mind, and fashionistas all over the world are completely smitten with it!
Matching Sets on Point
If you think that matching sets are completely outdated right now, then think again! These are making a huge comeback nowadays, and there is a good reason for that – they are bold and sexy, and you will look completely astonishing in them. Such sets are a clear sign of your colour and pattern coordination skills, and you should definitely not be afraid to wear one. When it comes to shapes and forms, the most remarkable ones are crop tops in combination with high-waisted pencil skirts. Of course, the most important thing is that you follow the same pattern: colours, textures and materials should be the identical for both pieces.
Space Cadets
Brace yourselves, fashionistas, because space age is coming right at you! Even though the majority of us won't have the possibility to head to the Moon and back, you can get as close as you possibly can to such an experience by opting for this spectacular fashion trend. We are talking about extraterrestrial designs, such as silver-foil items, metallic eye shadows, crazy prints, and a lot of silver. All we have to say is – wow! These ready-to-wear items are perfectly structured, and are true fashion statements for themselves. However, that means that you cannot wear them over and over again, because you will get enough of them very soon. For this reason, you can sign up to swap online consignment store and sell those fabulous items to other fashion-forward girls. You will earn some money this way, while helping other girl get affordable trendy items.
Flats After Dark
Wearing flats to a night in the club? What? Yes, it's possible! This is particularly true when it comes to pointed flats, because these, similarly to high heels, lengthen your legs and make them look slimmer and smokin' hot. One thing that makes them better than heels is the fact that they are so comfortable, so you can definitely stay up all night without having to worry about pain. Forget high heels and slip into these beauties, and you will definitely make no mistake!
Knowing these trends will definitely step up your fashion game to the max, so don't wait any longer and start preparing for summer right now. Just get some of the statement pieces and you will definitely rule wherever you show up!
About author:
Tracey Clayton is a full time mom of three girls. She loves cooking, baking, sewing, spending quality time with her daughters and she's passionate for writing. Her motto is: "Live the life you love, love the life you live." Find her on Facebook.