Fashion designing has been one of the world's hottest jobs and creative minds from all around the world have been focusing on this field of glamor and fame and there are institutes cropping up all over the place to help students initiate themselves into the fashion industry. But how did the top fashion designers from around the world start their careers? Let's find out.
[AdSense-A]
CALVIN KLEIN
Claim to fame:
Placed among the top 25 most influential Americans by Times magazine in 1996
Three time award winner from the Councils of Fashion Designers of America (1981)
Youngest designer to win the prestigious Coty awards consecutively in 1973, 1974 and 1975.
Calvin Klein is the youngest designer who has been placed on the international best dressed-list. His designs are for those who do not care about extravagant prices for extravagant stills. He finds his roots in the fashion industry thanks to his mother who introduced him to the world of art and fashion at a young age. He did not pursue any course and learnt everything by himself. He taught himself how to sew and sketch and even worked part time at a grocery store owned by his father. He saved money over the years working odd jobs and started his manufacturing business Calvin Klein Ltd. In the year 1973 he shifted focus from only formals to leisurewear and sportswear. Over time he became among the most renowned fashion designers around the world and currently offers a wide range of fragrances, cosmetics and home collections as well.
 ROHIT BAL
Claim to Fame:
Designer of the year – Indian Fashion Awards (2006)
Designer of the year – Kingfisher Fashion Achievement Awards (2001)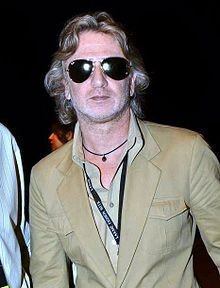 Rohit Bal is one of the most successful Indian fashion designers and if you think he's famous only in India you're wrong. He has worked with countless Hollywood celebrities including Uma Thurman, Pamela Anderson, Cindy Crawford and even tennis star Anna Kournikova. He is partnered with Swiss watch company Swatch for all his fashion shows in India and is also the brand ambassador of watchmaker Omega since the year 2001. He is primarily a self-taught designer and he started his career alongside his brother Rajiv Bal in New Delhi. He launched his first independent collection in the 1990 and has never looked back.
DONATELLA VERSACE
Part of the 'Rodeo Drive Walk of Style' where she was presented the 'Fashion Group International Superstar Award'.
Winner of the Do Something with Style Award in 2010 for her long time contributions to underprivileged school children.
Donatella learnt everything about fashion from her mother and she attended the University of Florence. She inherited the Versace fashion empire after her brother was murdered and immediately launched one of the most successful perfumes of all time 'Versace Woman'. The Versace brand moved on from being a clothing brand to a brand that includes home furnishings, accessories and even hotels. He became the chairman for the London Fashion Fringe in 2008.
GEORGIO ARMANI
Claim to Fame:
Recipient of the Legion of Honor
Part of over 100 Hollywood films as a costume designer
Georgio Armani is one of the most notable Italian fashion designers and is known for his unique style. He began his career working in a garment's shop in Italy where he was responsible for working with a photographer in arranging the store window. He started working as a freelancer in design in the year 1970 and after achieving success he launched his own fashion brand in 1975. He has multiple product lines including Armani Junior, Emporio Armani and Armani jeans. He has worked with top Hollywood stars like Penelope Cruz, Megan Fox and Anne Hathaway.