There are many good reasons to buy lingerie online, especially if you are a man. Going into a women's store to look for that special lingerie item for your loved one could be quite embarrassing for some men. Crowds of females and lots of bright colours and delicate fabrics surround you. It's just not what you are used to and you can feel yourself breaking out in a sweat just thinking about it. Then having to actually look through all that lingerie to pick the right size could be quite traumatic.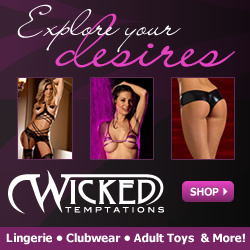 If you are looking for the perfect gift, then why not look online instead? No crowds, no hassles; just your familiar computer and you. You can bring up pictures of all the garments available and order what you want with the click of your mouse. You won't feel the least bit embarrassed because there is no need to ask for help from a female shop assistant. Sure in a real shop the assistant can help, but you have to know the size, colour preference and style of garment first.
Yes, you still have to know those things when buying online, but the pictures are there before you, so it's easy to make a choice. You don't even have to know the names of the garments. Bustiers, thongs, camisoles, baby dolls and different kinds of panties are all tagged with their correct names. Simply choose those you like the look of. And if you get it wrong, you can nearly always return it for a refund or replacement without feeling embarrassed to explain everything to the salesgirl.
Just make sure when you are buying online that you choose a reputable business and check their refund policy. Some online stores have no freight charges, or they may have sales just like your bricks and mortar stores do, so you can still take advantage of a bargain.