INTRODUCTION
Denim jackets have been growing in popularity over the last several years, and are one of the hottest trends this year. Though they used to be seen as old-fashioned and fell out of favor in the '90s, these durable, beautiful jackets have come back with a vengeance.
[AdSense-A]
These aren't your mama's denim jackets – no longer are they large or roomily cut with giant sleeves – they're thoroughly modern, offered from tons of different manufacturers in different shapes, colors, and styles.
They're one of the most versatile items that you can add to your wardrobe, and in this article we'll take a look at some examples of great denim jackets, give some suggestions on what to wear with them, and give you some quick product recommendations if you're looking to explore further.
OUTFITS
Source: Pinterest
Here we see a trendy, summery outfit that's based around a light colored denim jacket. White pants and a lightweight, heathered gray top, along with sunglasses, give this outfit a great summery vibe, while the lightweight, light-washed denim jacket is cut in a vintage style, and accessorized by a chunky, casual wristwatch and a large, beige-colored bag.
This outfit is a great example of the versatility of denim jackets. If you swap the lighter white pants for black pants, substitute the t-shirt for a boldly patterned flannel, or toss in a sweater underneath the jacket, this outfit would be as appropriate for an autumn afternoon as it is for an early-spring day.
Source:  Pinterest
Above we see a great example of what we just mentioned. Instead of a lighter, summery outfit, a darker colored denim jacket is combined with dark jeans, a long oxford-cloth shirt, sweater, and chunky scarf to create a look that's perfect for colder weather, and is as comfortable as it is stylish. The ripped jeans, unique animal-print slides, large leather bag, and sunglasses serve to accent this unique outfit, and make it totally cool and unique.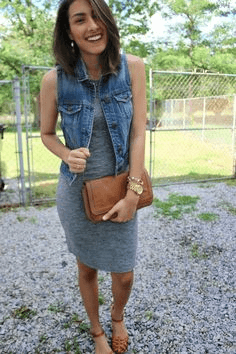 Source: Pinterest
And even in the summer, you don't have to leave your denim behind. A denim vest is just a denim jacket with the sleeves removed (either by you, or by the manufacturer) and can serve as a great accent piece to summery dresses, such as the heathered-gray cotton number we see above. Combined with the low-key jewelry, watch, and earrings, and the matching purse with shoes, this sort of look is great for any summery function where you wouldn't normally be able to wear a full denim jacket.
PRODUCT RECOMMENDATIONS
There are tons of different denim jackets out there, in an unimaginable variety of shapes, styles, and colors. For a classic look, Levi's is always a good choice – they have a great variety of choices and cuts that are sure to please. You can also look at trendier "fast-fashion" stores such as Zara, Urban Outfitters, American Apparel, and Topman. If you're looking for a more streetwear-style and edgy version of the classic denim jacket, you may want to check out top streetwear brands such as Supreme or Profound Aesthetic.
And of course, there are always your local vintage thrift shops and charity stores – often, denim jackets from years ago will still hold up terrifically today, given their versatility and durability. If you're on a budget, (or aren't' sure if you want one of these jackets) we recommend checking out your local vintage offerings.
Author Bio:
I am an educationist with a writing bug for as long as I can remember. Thanks to my wandering mind and curious nature, I like to write on a wide variety of topics as the writing process helps me learn amazing new things about the topic at hand. However, I am writing often about street fashion at Profound's blog.  I also enjoy scuba diving, golf, tending and reading. I also have a beautiful golden noodle, and most of my writing ideas come to me while I am walking him down the beach.